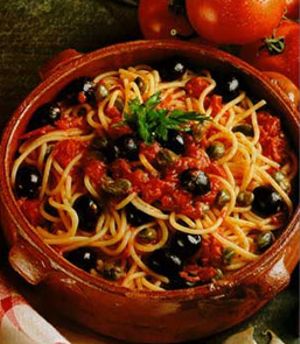 Whipped up a sexy pasta puttanesca tonight.
Here's how:
All ingredients from Trader Joe's.
Olive oil
Tin of anchovies
jar of capers, drained
jar of pitted kalamata olives, driained
red pepper flakes (some like it hot)
large can of diced tomatoes
jar of Trader Joe's Arrabiata sauce
about 12 large cloves of garlic, chopped
a fistful of Italian parsley, chopped
bread crumbs, toasted, about a cup
a pound of whole wheat linguine cooked al dente
Parmesan cheese
In a large, cold pan, mix the olive oil and anchovies, turn on the heat low and poke and mash at the anchovies until they start disintegrating. Throw in the garlic and continue cooking with very low heat. When the garlic softens and the anchovies are pretty shredded, add the parsley, and some red pepper flakes, keeping the heat low until the parsley is cooked a little. Turn up the heat to medium or so, not letting the garlic brown, and dump in the canned tomatoes with its juice, more pepper flakes to taste (plenty!), the Arrabiata sauce (or another can of tomatoes in puree), some black pepper, the olives and the capers. Bring it to a good simmer at medium heat for 10 to 15 minutes, then dump in the cooked al dente pasta. Lower the heat and toss it together , then add the toasted bread crumbs, and mix it all up some more. Serve with good parmesan cheese or a parmesan/reggiano mix, and a glass or three of red wine. You can also add some red wine to the sauce in the simmering stage.
Weep for the whores of the world.