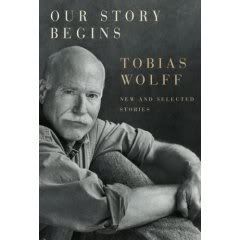 Saturday night I hauled the BF kicking and screaming to see and hear Tobias Wolff read from his new collection
Our Story Begins: New and Selected Stories
at
M-Bar
in Hollywood where
Word Theater
hosts many of its events. The book contains "selected stories", including my all time favorite
"Bullet in the Brain"
("Short's the best position they is" ...
)
, and 10 new stories. The readings were of 4 of the new stories.
David Clennon
(Miles Drentell in
thirtysomething
) read
"That Room"
, a short, powerful story where tragedy is avoided via a well-timed puke. It sounds funny, but it opens a door to "that room"—like the Hotel California, once you enter it, you can never leave.
Wendy Makkena
(
Sister Act
) read
"The White Bible"
, a story of an immigrant man who kidnaps his son's teacher because she has caught the son cheating on an exam and has promised he will be expelled. The kidnapper admonishes her not to report his boy because he has dreams of his son becoming a doctor like he was in his native country (somewhere where they name their boys "Hassan"). The shift of power comes soon, and then she's in charge, and yes, she will report the son, who's been cheating all year. She dashes the dreams of the kidnapper:
"Wait—just listen. Honestly, now, can you picture Hassan in medical shcool? Even supposing he could get in? Even supposing he can get through college at all? Think about it—Hassan in medical school. What an idea! You could make a comedy—Hassan Goes to Medical School. No, Hassan will not be a doctor. And you know it. You have always known it."
I mean, girl don't flinch! Then she asks him, "Suppose I'd promised not to report Hassan. Whatever made you think I'd keep my word?"
And he pulls out a little, white, girl's Bible.
Imitation leather. With gilt letters on the cover.
That he got at Goodwill.
"You would swear," he said. "Like in court, to the judge."
Aaaaaaahhhhhh. And by then, you know, Wolff has you. He's reeled you in and you're happy to be flopping on the bottom of his boat. Wendy Makenna did an awesome reading of it.
Robert Forster
(
Jackie Brown, Mulholland Drive
) read
"Down to Bone"
about a son and his dying mother. It's funny, wry, bawdy, and then, when you least expect it, your heart breaks as the man who no longer knows how to be a son, becomes a father to the dying woman, because that's something he still knows how to do.
And then Wolff read
"Her Dog"
to completely annihilate and exhilarate. Oh it was a grand night.
I ran into my friend
Scott Doyle
there, and also one of my early writing teachers from UCLA Extension,
Lou Mathews
, so that was cool. And I didn't prostrate, fawn and gush even though I wanted to hug Wolff's legs. I wanted to go all Mary Magdalene on his ass, but I didn't. I didn't even get my book signed because of the throng thing. We left and I retold the stories to my darling who hasn't much of an attention span for these kinds of things but whom I cherish for his good sportsmanship and love and who honors me with his company and support.
That's the
Tobias Wolff
report.